Welcome to the new age; full of black screens, lighted by the innovation of social media. Like everything else in the world, advertising is taking a modern shift from traditional. If you are not on the internet, you don't exist. While some brands are still struggling to make their presence in the virtual world, others are thriving by hitting the right spots. Today let's talk about Zomato. If you are not new to earth, you know exactly what Zomato is.
Taking over our hearts, the brands creativity is hard to ignore. Humorous, nostalgic, witty. Bringing back fond memories, Zomato ads are an ode to pop-culture. The food discovery/ delivery app amuses with its quirkiness.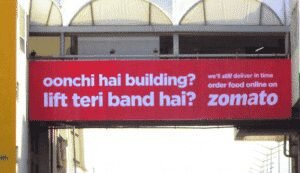 Their take on trends are artful and effectively put a smile on our face. During the most important sporting event- the Olympics, the Zomato ad looked like this
Pokemon Go! was a huge hit with audiences across different age groups. Capitalizing on this exciting trend, Zomato successfully displayed its witty creativity with the following add
Their advertisements have a way of connecting with the audience. Beautifully structured, the minimalism they exude is catchy. Without saying much, they say a lot. Take a look at the following ad for instance
There are two types of people, who love pizzas and who love pizzas. Their way of eating may vary, however. Such simplistic, clear representation will make you want to tag the crust eaters and the crust leavers. Brilliant!
Sounds familiar?
Just a drool-worthy representation of your favourite shows!
Brands today are realizing the importance of social media marketing. With the right configurations of traditional and online marketing, sweet success can be achieved. We are a digital marketing company in Delhi NCR, equipped with tools to take you a step closer to your business aspirations.
Bharat Arpanet offers a single platform for SEO, SMO, email marketing, online reputation management, PPC services in Noida. We go beyond basics to give our clients the desired results.